Kluwer IP Law
Visser's Annotated European Patent Convention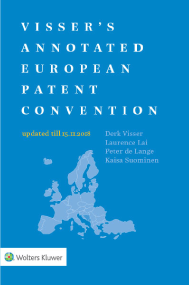 The preeminent work – the only regularly updated authoritative article-by-article commentary in English on the European Patent Convention (EPC), its implementing regulations, and associated case law – provides the complete text of the 2000 Convention annotated with commentary and expert guidance on the interpretation of each paragraph.
Since its first edition in 1994 Visser's Annotated European Patent Convention has provided the European patent community with the necessary insights to practise successfully before the European Patent Office.
Best-selling Article-by-Article commentary with expert guidance on the interpretation of each paragraph
Updated annually*
By authority Derk Visser
*The EPO has announced that the annual entry into force of the Guidelines will move to 1 March and there will be no new Guidelines in 2020. Therefore, there will not be a 2020 edition of the book. The 2019 edition is suitable for candidates preparing for the EQE 2021. In November, a supplemental note will be available for free here .
Introducing the Team Behind Visser's Annotated European Patent Convention
Kluwer IP Law
In addition, the Visser's EPC Smart Charts tool will guide you per topic to the relevant article, case law and commentary
Covers commentary from Visser's Annotated European Patent Convention and Case Law of the Board of Appeal of the European Patent Office
Updated at least 3 times per year
Includes useful links to the EPO website
If you would like to learn more about our Kluwer Intellectual Property Law database or if you have any questions, please contact us: